News From Singer Sewing Center
DIME Perfect Embroidery Software Class
Monday, July 25 at 6:00pm – 8:00pm
Has Been 
CANCELLED,
 due to Happy
unforeseen circumstances.
We will reschedule this class soon.
BOBBIN WORK SEWING with PATTY DUNN
Monday, July 25,2016  10:00am – 12:00 noon

.
Patty Dunn will show you the magic
of creating  beautiful stitches
with heavy decorative threads
using your regular sewing machine.
We will have fabric for you to play with,
that you can take home and finish
as a pillow, purse,wall hanging
or wherever your imagination takes you.
Or you may bring a piece of fabric from home ,
that you would like to  that you experiment on.

$25.00 for 2 hour class.
All thread and fabric
supplies included.
Bring your Sewing Machine.
And you MUST bring a
SECOND BOBBIN CASE.
We will not adjust your primary bobbin case for the class.
QUILTING and UFO CLASS
Wednesday, July 20, 2:00pm
Need some help with your UFOs?
Faye specializes in quilting,
but can also guide you
through most projects that you would like to begin,
or are stuck in the middle.
Classes are $25.00 for 2 hours,
and only $5.00 for each additional hour.
YOU MUST PRE-REGISTER TO ATTEND.
Call 361-9912-5151 to sign up.
BEGINNING
SERGER CLASS
Get your serger out of the closet, and learn to love it.
Susan will help take the mysteries out of your overlock.
Bring you serger with 4 different colors of thread,
and go home a more confident serger.
You MUST pre-register to attend.
Call 991-5151 to reserve your spot.
KIMBERBELL BENCH PILLOW QUILTING
Sunday, August 14, 2016 1:00PM – 5:00PM
Learn to quilt, or hone up on some new skills, including:
applique, piecing, hand embroidery, 3-D applique, and quilting techniques.
Join us and create this month's Bench Pillow,
which is  "Home Sweet Home".
SILK RIBBON HAND EMBROIDERY CLASS
Learn the rewarding art of hand embroidery,
using silk ribbon.
Sue Bryan will be teaching this wonderful class.
3 hour class is $35.00 and includes all materials to create a finished handkerchief.
Call 991-5151 to sign up, and for more information.
BEYOND THE HOOP 
EMBROIDERY EVENT
Don't let the size of your embroidery hoop hold you back!
Tamara Evans from DIME will help you understand:
Continuous Embroidery, Custom Label Work,
Precision Piecing, and much more;
especially:
PLACEMENT, PLACEMENT, PLACEMENT!
4 hours of education for only $29.00
Includes 2 free gifts and Refreshments.
Have you been dreaming of
owning the Brother Dream Frame?
The height of the table is adjustable,
for sit-down or stand-up quilting and thread painting.
It really is a dream come true.
We have one that is completely assembled,
and includes
the Brother VQ2400 sewing and quilting machine
with Stitch Regulator.
This combo usually sells for $6,400.00.
But you can come and pick this one up for $5,400.00 .
And, IT'S ALREADY ASSEMBLED!
New warranties and services applies.
JANOME MEMORY CRAFT 500e
We just finished up a very exciting embroidery event
using the Janome MC500e.
Most of the machines used during the class were sold,
but we have 4 remaining machines,
that we are offering  at a very discounted price
of $2,249.00
The Janome MC500e is a very wonderful
embroidery-only- machine
with maximum hoop size of 7.9″ X 11″.
Come on in and try it out. Then take one home.
Regularly $2,999.00  Open box class machines $2,249.00
These machines come with
all of the perks of a new machine;
First in-house service, endless instruction on machine operations, and Singer Sewing Center Rewards.
Special Purchase on BabyLock Tempos
We were able
to get a
super deal on a great sewing machine;
the
BabyLock Tempo.
MSRP: $1,499.00
Our Price:$699.00
This price includes: your first in-house service,
endless instruction on workings of the machine,
and Singer Sewing Center Rewards.
We only have 4 at this price,
so let us know if you want us to save you one.
QUILTERS REJOICE!
40% off all 
in-stock batting!
Did you know that the Singer Sewing Center has great batting for your quilting, embroidery, and crafting projects!
To bring this to your attention,
we are giving 40% savings
on all packaged and bulk batting.
We carry
wool, 
cotton, 
poly, 
cotton/poly blend 
and 
bamboo batting,
in
up to 120 inch widths.
Come on in
and check it out.
REGISTER YOUR NEW MACHINE!
It's never too late to register
your new sewing and embroidery machines.
When you do, you will get automatic emails
alerting you to free updates for your machines.
Or you can always go to your manufacturer's website
and check for updates.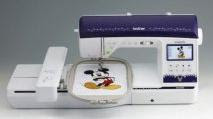 Right now, if you own the Brother NQ3500D or 1400e
there is an update
that will help your machine read embroidery designs
even better.
and sign up for automatic updates.
LOOKING AHEAD
We have some great
Classes and Events coming up.
It's not too early to mark your calendars
for these fun programs.
QUILTING ALL NIGHT WITH FAYE & TASSIE
Saturday, Sept. 10, 3:00pm

until 
Stay up all night with some new best friends, and have fun quilting, sewing, getting ahead start on Christmas,
or whatever suits your fancy.
Tassie and Faye will be on hand to help you through the trouble spots and add encouragement.
$60.00 for 12 hours of help.
Pot Luck keeps you going all night.
FLORIANI IN-STORE SEMINAR EVENT.
Friday Oct. 14

OR

Saturday Oct. 15, 2016
This one-day event will help you understand the secrets to perfect machine embroidery.
Learn what stabilizer to use when, and how your threads will make a big difference in your finished designs.
Only $49.00 for this 7 hour class;
which includes, lunch and snacks,
and also a free gift from Floriani worth $499.00!
there will be hands-on classes,
for those that have the Floriani Total Control-U.
ANITA GOODESIGN EMBROIDERY EVENT
Friday, Nov. 11 & Saturday, Nov. 12, 2016
Another great Embroidery Event brought to you by
Anita Goodesign.
We will be using the latest Brother Embroidery machines for this annual event.
If you would like to learn more about machine embroidery,
plan to attend this informative and fun event.
$99.00 for 2 days of fun and food.
Would you like a new machine,  but you don't want to wait?
The Singer Sewing Center
ALWAYS offers
no money down, and no interest for 12 months,
for qualified buyers.
Don't mind waiting? We have
LAYAWAY as well.
Come in and find the machine of your dreams.